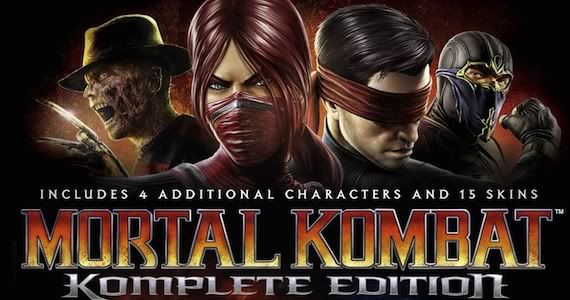 Mortal Kombat took the fighting game community by storm in 2011 by winning countless awards for best fighting game and beating out both of Capcom's fighters.  Mortal Kombat (2011) is getting released in new packaging with all of the character and costume DLC included.  As a bonus, the game will also feature the official soundtrack (Mortal Kombat: Songs Inspired by the Warriors) and a token to download the 1995 Mortal Kombat film via Playstation Store or Xbox Live Zune.  A full list of additional content can be seen below.
Characters
Skarlet
Kenshi
Rain
Freddy Krueger
Costumes
Cyrax & Sektor (MK3)
Smoke & Noob Saibot (MKII)
Kitana & Jade (MKII)
Sub-Zero & Cyber Sub-Zero (MK3)
Scorpion, Sub-Zero, Reptile, Ermac (MK1)
Kitana, Mileena, Jade (UMK3)
Fatalities
Scorpion (Toasty)
Sub-Zero (Spine Rip)
Reptile (Yummy)
Mortal Kombat: Songs Inspired by the Warriors
Deathstalker (Scorpion's Theme) – JFK of MSTRKRFT
Mileena's Theme – Tokimonsta
Helado (Sub-Zero's Theme) – Harvard Bass
Liu Kang's Theme – Congorock
Goro's Theme – Bird Peterson
Reptile's Theme – Skrillex
Raiden's Theme – 9th Wonder
Johnny Cage's Theme – LA Riots
Baraka's Theme – Run DMT
Kung Lao's Theme – Felix Cartal
Kano's Theme – Them Jeans
Shao Kahn's Theme – Sound Of Stereo
Mortal Kombat (1995)
Mortal Kombat: Komplete Edition will be available on Feb 28th on Xbox 360 and PS3.  If you missed out on the revival of Mortal Kombat, now is your chance to have the complete experience!